Experience the taste of coffee as it should be – at its freshest and full of flavour. We roast ethically sourced coffee and deliver it to coffee lovers across the UK. Enjoy the great taste of freshly roasted ground or bean coffee from central and eastern Africa with our subscription coffee service. No strings attached, just amazing coffee delivered to your door.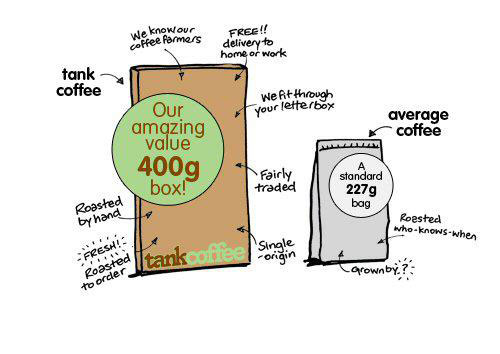 Fast FREE UK delivery to home or work
Coffee by post – buying coffee beans has never been easier
We roast in small batches every week
Better value than ordinary, mass-produced coffees
Direct trade gives our farmers a better deal
Experience distinctive single-origin coffees
Get rewards for your loyalty with Tank tokens
Our coffee comes in 400g boxes, so you get more IN the post!
We're a coffee roasting company with a big heart for the farmers in Africa who grow our wonderful 100% Arabica coffee. We offer a fantastic range of coffee suitable for a filter coffee machine, cafetiere or full bean coffee that you can grind yourself.
You can pick your selection at checkout when choosing the speciality coffee or coffee type you like best.
Our roasters carefully roast, then sell our coffee by hand in small batches, then deliver them to homes, businesses, cafes, and delis. So when you order our speciality roasted coffee beans online, you can be confident that they arrive full of flavour.
Perhaps more importantly, our passion is that we believe the farmers (those guys right at the start of the supply chain) who grow our 100% Arabica coffee should get more than just a fair wage for what they do. Postage and packaging are free in the UK, and you don't even have to be at home to receive it in our special packs fit straight through your letterbox.
We like transparency. In fact, Tank Coffee isn't really a business; it's more of a family, a network of relationships, starting with the farmer and leading to you. Injustice grows out of anonymity, and we're not happy unless we know exactly the journey your coffee has taken to get from the cherry to your cup. This means everyone in the supply chain, including the farmers and their workers, receives a fair and decent wage for what they do.
Our roastery is based in Leigh, Greater Manchester, and we provide nationwide delivery throughout the county via Royal Mail nationwide delivery.